The Canon EOS 5D Mark II Page
Using 5D Mark II with the 24mm-105mm f/4 IS USM L Kit Lens (and other L lenses)
by Robert S. Blum (a.k.a., sfwrtr)
1: First Impressions 2: DPP NR Better Than CS4 ACR 5.2? 3: BG-E6 (coming soon...)
---
A Case for DPP:
Noise reduction better than CS4 ACR 5.2?

Contact me at:

(I will answer
you on this page.)
While waiting for my trial of Adobe Photoshop CS4 and Adobe Camera Raw 5.2 to download, I played a little while with DPP. The program has everything you need to work with RAW files from your new camera. Unfortunately, the interface is clunky and not as well designed as either ACR or Photoshop. By brute force, it gets the job done.
So, I did a number of RAW conversions and transfers to CS3. A reader challenged me (Ed?) to properly expose ISO 25,600 H2 images, to see if I could reduce the noise as show in Picture 4 on my Initial Impressions page. Surprisingly, with a proper exposure, high ISO noise is limited, though there is still faint banding. More surprisingly, when loaded the image through DPP and transferred to Photoshop through a built-in menu item, the H2 images look astonishingly good.
Now, before I get some flames, I will say that the quality is not the same as images taken at low ISO. What I will say is that I think that in some cases you may choose to print H2 images. Honest. Reduce the size to 1/4 res or more for web use, and you will find yourself challenged to actually believe the ISO rating. They look that good...
Or do they? Well, I got CS4 and ACR 5.2 loaded. I rubbed my hands together. Ready, let's gets some real work done. I fired up ACR and loaded in an image I knew looked good in DPP, ready to see ACR noise reduction do far better. Surprisingly, the ACR result looked pretty awful in comparison. The thumbnail below links to a 1920x1200 gif that shows what I saw pixel peeping at 100% magnification in each program. The gif cycles every two seconds. I fiddled with a few sliders in DPP, and ramped up the chrominance slider to 17 of 20. Luminence is 14 of 20, suggested by the program. Less than a few minutes work (testing a NR setting in ACR takes a minute of processing time). To try to match the color, noise reduction, saturation, etc., I had fiddle in ACR for over two hours. What you see is the best that I could do - and you will see, it doesn't come close to what I could do with DPP. (Shooting information same as for Picture 1 below)


Click to see an animated GIF presentation
ACR vs DPP RAW conversion discrepancy.
Now, what I want to know is, what happened to ACR? Was it programmed using a prototype camera? In general, I've found ACR noise reduction sufficient for all my 20D work. Mind you, that's 8MP vs. 21MP. I found that it often did as well as my big gun, Neat Image. Not this time. Although I used Neat Image, and it did a better job than ACR, it left hot pixels all over the heck and could not give the same detail, regardless of all the myriad tweaks the program offers.
Canon 5D Mark II high ISO pictures are obviously pretty special. And Canon has gifted us with a converter, at least at the moment, which can actually perform miracles. Until Adobe fixes ACR, or until I test DXO's 5D Mark II converter, scheduled to ship in January 2009, I will be using DPP in my work flow.
So, have I tried out ACR with low ISO shots? Sorry, not yet. Did I say I mention that I am a low light photographer? I think I did. Maybe next time. Bye!
Picture 1: Full-res bear. About 1.4MB in size. Here are the specs:
ACR:
Sharpness: Amt 10, Radius .5, Detail 9, Mask 27
Noise Reduction: Lum 47, Color 82
Lens Vignette: Amt 32, Midpoint 39
Tone Curve: H +23, L +18, D -21, S +13
Temp 2500, Tint 5
Fill Light 3, Black 11, Brightness 61, Contrast 25,
Clarity 19, Vibrancy 0, Saturation -9

DPP:
White balance by dropper. No Degrees K readout.
Contrast: 2, Sharpness: 3.
Auto Lighting Optimizer: On at Standard.
Lum NR: 14, Chrom NR: 17
Peripheral Illumination: 5
File Name _MG_6500.CR2
Camera Model Canon EOS 5D Mark II
Firmware Firmware Version 1.0.6
Shooting Date/Time 12/8/2008 9:54:13 PM
Author Photographer:Robert S. Blum
Copyright Notice (c)Copyright 2008 by Robert S. Blum (RoSB), All rights reserve:
Owner's Name Robert S. Blum
Shooting Mode Program AE
Tv( Shutter Speed ) 1/400
Av( Aperture Value ) 7.1
Metering Mode Spot Metering
Exposure Compensation +1
ISO Speed 25600
Auto ISO Speed OFF
Lens EF24-105mm f/4L IS USM
Focal Length 105.0mm
Image Size 5616x3744
Image Quality RAW
Flash Off
FE lock OFF
White Balance Mode Auto
AF Mode One-Shot AF
Picture Style Monochrome
Sharpness 3
Contrast 0
Filter effect N :None
Toning effect N :None
Color Space Adobe RGB
Long exposure noise reduction 0:Off
High ISO speed noise reduction 2:Strong
Highlight tone priority 0:Disable
Auto Lighting Optimizer 0:Standard
Peripheral illumination correction Enable
File Size 37317KB
Dust Delete Data No
Drive Mode Single shooting
Live View Shooting OFF
Date/Time(UTC)
Latitude
Longitude
Altitude
Geographic coordinate system
Camera Body No. 0220106154
Picture 2: Same bear reduced to 682x1024 as a "web" image.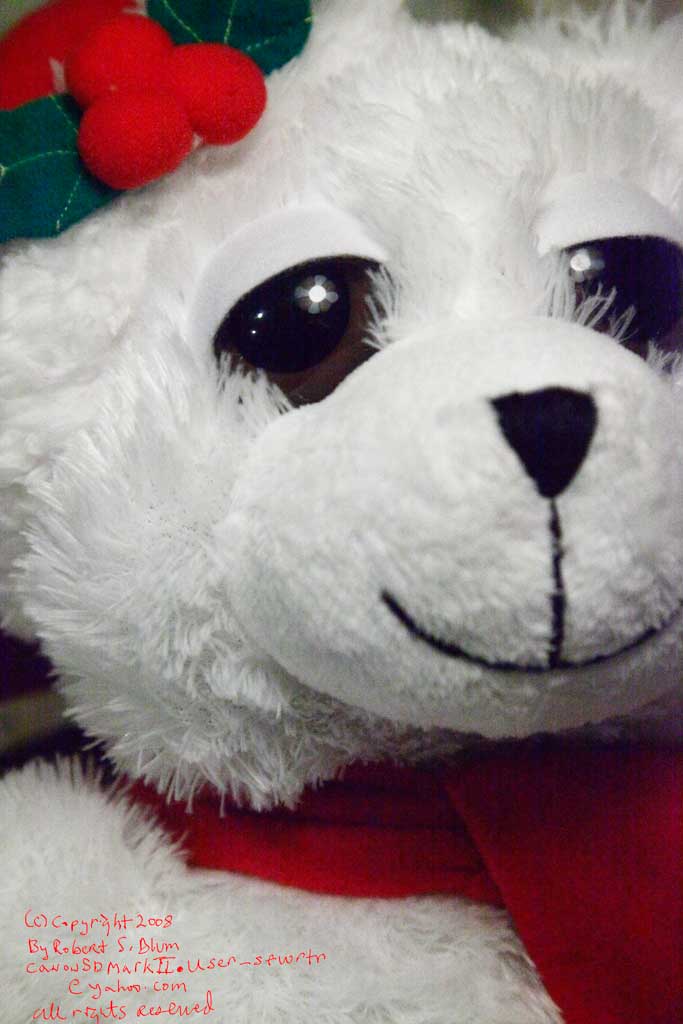 ----- Counter follows
Rhino Rollover
-----